PROJECTS:
---

Currently on view:
Rockford Art Museum
Historyof.Golf
"How the West was Won
, reveals unique relationships among geologic time, colonialism, climate change, and golf. King's exhibition purposefully shares the title of the 1962 ultra-widescreen American western film, which opens with this narration: "This land has a name today and is marked on maps. But the names and the marks and the land all had to be won. Won from nature and from primitive man".
...
This film and unnerving quote about westward expansion contextualizes the entire exhibition—not just in the artwork's content but also its mediums. For instance, King's stunning ultra-wide video projection directly references the format of the original film, but in the place of gallant cowboys trailblazing western trails there are two older white men, in casual sports attire, playing an eternal round of golf in the middle of the Mojave Desert—a foreboding foreshadow of the consequences of climate change. Like two ghosts, the golfers seem to be forever destined to haunt the barren landscape, not with rattling chains, but with swinging golf clubs." - New Genres Art Space
2018 - 2021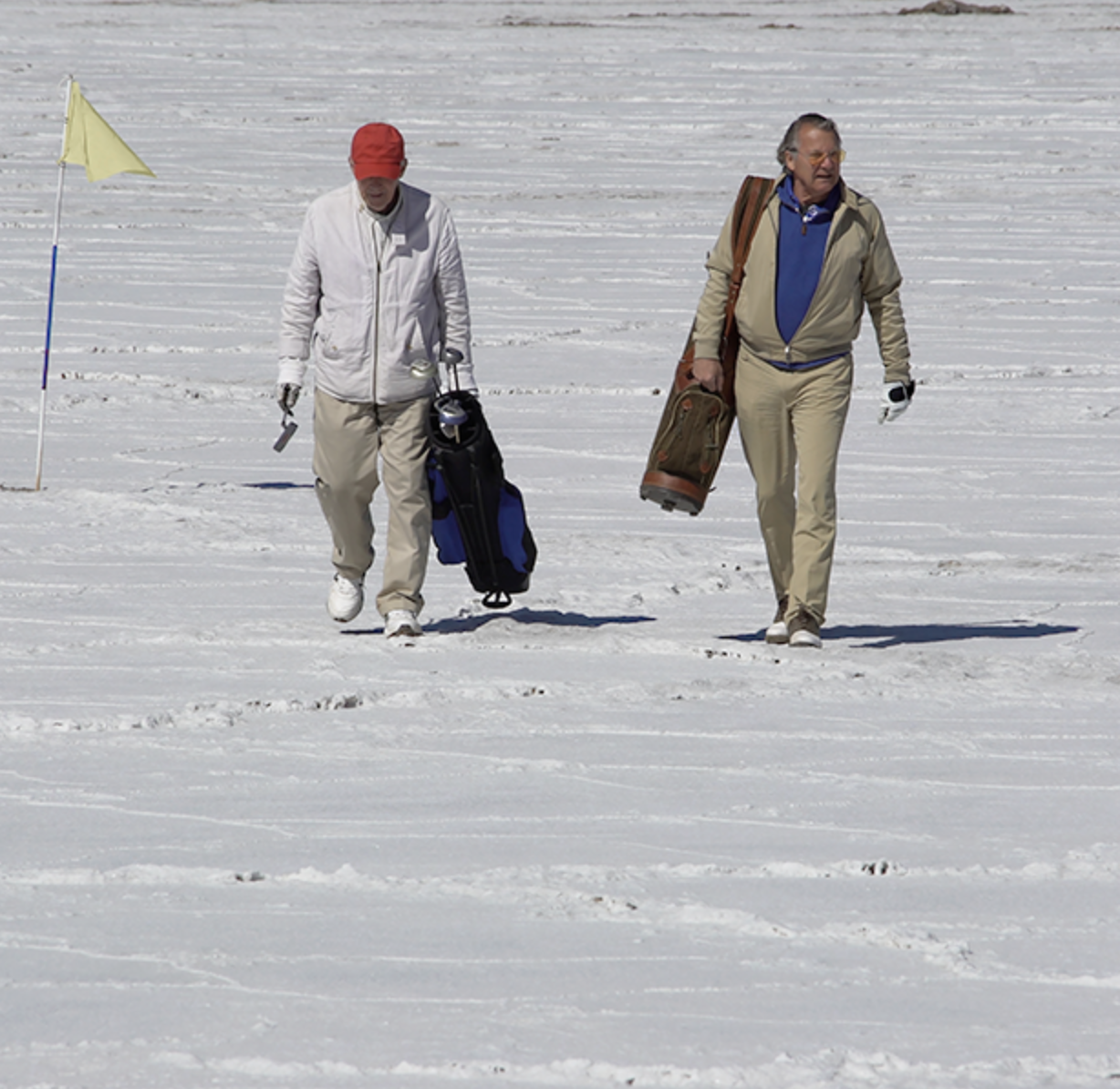 ---
All My Friends Are In The Cloud
"All My Friends Are In The Cloud presents a video-sculpture and new interactive installation by New York-based Irish artist and filmmaker Jonah King. In the artist's words, the work "celebrates the resilience of human tenderness within the sleepless mechanisms of digital technology." The project examines the contradictions of connection in an age when human intimacy is often at odds with our "always-on" digital realities....
The show centers on an ever-expanding digital archive viewed via a pillar of monitors. Images of people embracing gently spin and scroll upward like video clips in a social media feed. As the images ascend, they unfurl into a whirl of digital fragments. By the time each embrace reaches the top of the screen, its image has disintegrated completely.

This exhibition is titled for King's ongoing project of the same name, but this installation dramatically expands the project's scope. The embrace that is central to this work is no longer one that is merely witnessed on-screen but instead enacted by participants. As part of this exhibition, King has been working with University Galleries' staff and students in the College of Fine Arts' Program in Arts Technology to develop a new interactive artwork that will allow public members to participate in this process. Participants—whose images will be joined with those in the adjacent gallery—will also see their own likenesses ascend, unfurl, and disintegrate.

King's work prompts visitors to reflect upon the physical embrace itself, and also, by way of the camera documenting them, the services to which we willingly grant our data and the technological surveillance under which we willingly put ourselves in the name of "connectedness." By doing so, the artist states, "this workplaces human vulnerability center stage." Through simple everyday gestures, University Galleries' visitors will actively share a more meaningful conversation about the ways we engage with the digital world." - Zach Buckley, Wonsook Kim University Galleries

2017 - 2021
---
"King's Tongue The Sun project seeks to contextualize the materiality of our body's ecosystem. The web as an online exhibition platform comprises three core outcomes: an interactive digital sculpture, essay reading, and a program of live-streamed events with the artist Jonah King and invited participants. ...


King's project is contextualized by this present unprecedented moment in which we are currently living, when our biology, in all its fragility, has taken priority over global trade, party-politics, and identity divisions that characterize our time. The artist's focus is on a reinterpreting of how evolutionary forces undermine stability in modern life. Through their project, we are invited to consider looking at the world through a lens that disrupts heteronormative categorisations. In this instance, reference is made to the 'queer ecology' perspective regarding organisms, species, and individuals' value and identity classifications." - Anne Kelly, Curator NCAD Gallery

2020
---
Bodies of Water is a four-channel video exhibition and theatrical work created under the guise of Ira Dean, a fictional video artist who dissapeard 10 years ago on a voyage to the North Atlantic Garbage Patch.
Every evening, the exhibition becomes a responsive theatrical performance led by curator Jan Kavanagh (Una Kavanagh), Ira Dean's former assistant and romantic partner.
...



The mystery of her disappearance has haunted Jan for the last decade. Was it an accident? A tragedy? A hoax? We join her as she searches for clues in the surviving artworks.

Developed in collaboration with Maeve Stone and Eoghan Carrick, with sound design by Frank Sweeny, Bodies of Water premiered at the Dublin Fringe Festival in September 2019.

2019
---
Upper_Sea is a two-channel 11min immersive video installation telling the story of a future world in which human consciousness lives in computers.

Pondering a relationship between electronics and rare earth metals, the video's narrator suggests that the digital media space is, in fact, an experience inside geological matter....

The film comprises various moving image processes: CGI animation, computer vision algorithms, early cinema special effect techniques, and live-action footage, including participants following performance scores with sculptural elements.


2016
---
This project encompasses intimate experiments with frequent collaborators and elaborate projects with community groups internationally. The resulting works are snippet loops or full films and exist in installations and film screenings. ...

Movement Restriction is an umbrella title for an ongoing series of choreographed Dance Films beginning in 2014.

A "Movement Restriction" is a chorographical element in contemporary dance that limits a dancer's body; instead of giving a directed gesture.


2014 - 2021
---